Venue
420 Park Avenue South New York, NY 10016
420, Manhattan, NY 10016
Manhattan, NY, US, 10016
Evening networking social event for Eminae members and guests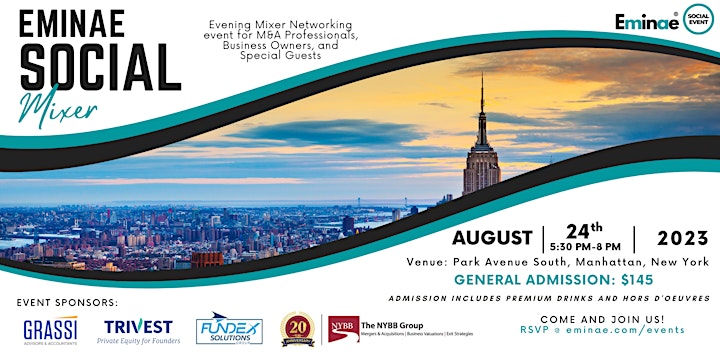 It's that time again – the Eminae Network is hosting an exclusive Social Mixer in Manhattan, and we would be thrilled if you could join us!
This event is perfect for M&A professionals and business owners to meet, share insights, and forge valuable connections. We have crafted an atmosphere that promotes engaging conversation, networking, and most importantly, enjoyment.
📅 Date: August 24th, 2023
⏰ Time: 5:30 PM – 7:30 PM
📍 Venue: 420 Park Avenue South New York, NY 10016
What to Expect:
• A convivial atmosphere perfect for connecting and having engaging conversations 🌟
• Delicious hors d'oeuvres
• Fully stocked bar 🍢🥂
General Admission:  $145
Secure your spot TODAY for what promises to be a memorable event.
This is your chance to expand your network and create lasting memories.
We can't wait to share this evening with you!